Ecological protective envelopes

100% paper envelopes. Innovative, NEW, fully ecological solution.
As an innovative leader and promoter of ecological activities for more than 30 years, in early 2022, WZ EUROCOPERT launched a unique and pioneering production of high quality, all-paper protective envelopes under the name ECOMAX Premium®.
We are convinced that the ever-growing need to care for the environment and supporting this trend with our new eco-friendly line of ECOMAX Premium® envelopes will not only strengthen the brand and company image, but above all meet the current expectations of the market and our customers.
ECOMAX Premium® is a range of certified envelopes that are completely plastic-free, so they are fully eco-friendly and can be recycled without the need for sorting (100% paper) as with standard envelopes with bubble wrap and film inside.
They are made of 6 layers of strong uncoated paper, which makes the contents of the envelope more resistant to damage. Their interior is lined with a flexible double protective layer of 100-gsm bubbled paper, which stiffens the envelope, absorbs shocks, prevents creasing or breaking, and above all perfectly protects the contents sent in the envelope. An important advantage here is also the low weight of the envelope, which positively affects the cost of shipment. The strong HOT MELT adhesive applied under the paper strip protects the trapezoidal or straight flap of the envelope from opening, while the durable and aesthetic gluing of the two side edges and the fully lined protective layer of the envelope's bottom prevents it from tearing.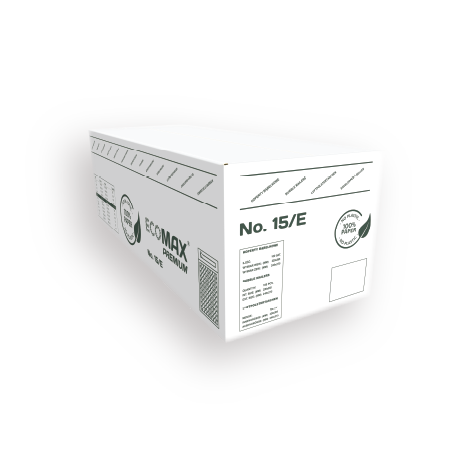 Currently, ECOMAX Premium® envelopes are available in 11 sizes and two paper colors – white and brown, with company branding and a barcode.
| | | | |
| --- | --- | --- | --- |
| Oznaczenie | Wymiar zewnętrzny [mm] | Wymiar wewnętrzny [mm] | Ilość w kartonie |
| A/11 | 120 x 175 | 100 x 165 | 200 |
| B/12 | 140 x 225 | 120 x 215 | 200 |
| C/13 | 170 x 225 | 150 x 215 | 100 |
| D/14 | 200 x 275 | 180 x 265 | 100 |
| E/15 | 240 x 275 | 220 x 265 | 100 |
| F/16 | 240 x 350 | 220 x 340 | 100 |
| G/17 | 250 x 350 | 230 x 340 | 100 |
| H/18 | 290 x 370 | 270 x 360 | 100 |
| I/19 | 320 x 455 | 300 x 445 | 50 |
| K/20 | 370 x 480 | 350 x 470 | 50 |
| CD | 200 x 175 | 180 x 165 | 200 |
Tabela rozmiarów ekologicznych kopert ECO MAX®